OVERVIEW
While the cost to government of supporting a national health care system can be crippling, it can also result in health care modernization. With the goal of improving health care while lowering costs, policy makers are funding programs that encourage the sharing of data and adoption of electronic health records (EHRs).
Governmental and non-governmental organizations collect and generate huge amounts of health care data. Clinical data combined with administrative data can be used to demonstrate if the money being spent to improve population health is actually working. And, as digital data streams grow, analytics will become more critical to manage costs and use scarce resources wisely.
For more than three decades, health care providers have used Analytics to:
Measure, track and improve performance more effectively and efficiently.

Improve health outcomes and patient safety by delivering evidence-based improvements in quality of care.

Save millions of dollars through accurate forecasting and real-time access to information.
iHealth understands that analytics and intelligence is becoming increasingly critical to the success of any healthcare organization. The wealth of digital data available to healthcare providers is expanding exponentially. And while data in an electronic medical record is of enormous value to individual patients and physicians, its potential value to the healthcare system is even greater. With aggregation, standardization and analysis, this data can offer insights that will help healthcare providers prevent disease; lower costs; work more efficiently, comply with reporting and regulatory requirements; and interact with patients and consumers more effectively.
While the adoption of an analytics strategy is a large undertaking for any Agency or organization, it is a critical requirement for future success. With a "start now, start small" approach, we can help you make a valuable progress toward a long-term goal of a data-driven enterprise. Partnering with a good consultant and implementing a modular analytics platform can facilitate creation of a long-term analytics strategy that is consistent and easy to manage.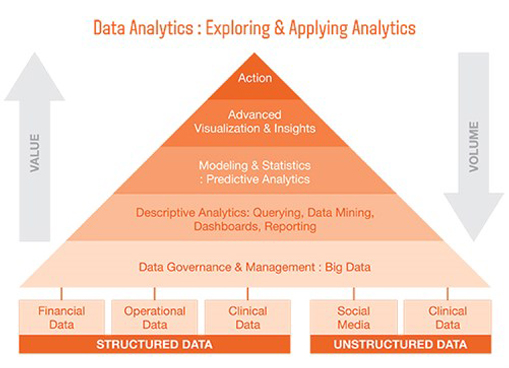 As you take on simpler analytics projects that provide high value by using existing tools and daya you should think about how you want to integrate these projects into a broader enterprise strategy. Concurrently with your analytics projects you should be working on enhancing interoperability; creating a structure for data governance and master data management; and planning an enterprise-wide data warehouse.